Let's be frank. Coydogs are rare–you won't see them in homes easily. Many jurisdictions don't allow the coyote husky mix to be reared like a pet. 
As such, there's little research on this hybrid. And very few organized breeding programs for coydogs exist.  
So, what is this dog, and why is it so fretted? If you're interested in knowing more about the husky coyote mix, continue reading this post to the end. 
What Is a Coyote Husky Mix?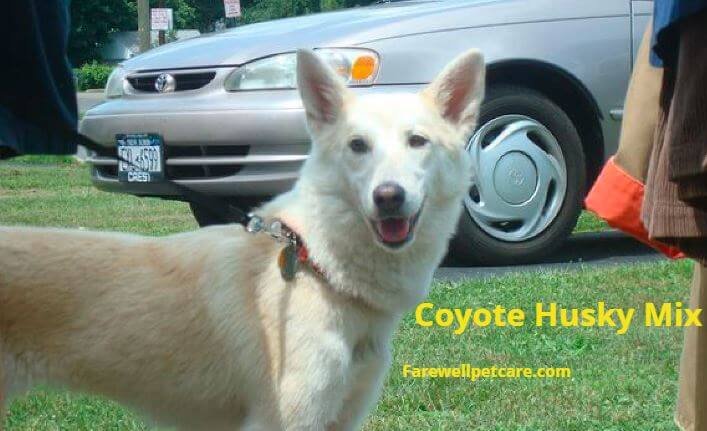 Have you heard of coyotes? What about the huskies used as sled dogs? Of course, these are two well-known animals in the lineage of canines. 
Generally, a husky coyote mix is a product of interbreeding the husky sled dog and a wild coyote. The result is an agile, strong-willed, and focused hunter, the coydog. 
To understand this hybrid dog, you must know a coyote and a husky. So, let's have a look at the individual canines. 
Find Out: Why Are Chihuahuas So Angry?
Coyote
A coyote is also known as Canis latrans in the scientific context. Other common names are brush wolf or prairie wolf. 
The coyote is native to North America. So you will find it in the United States and Canada mostly, although it's also popular in Central America. 
Standing about 24 inches (0.61 meters) at shoulder height, this animal is smaller than a wolf. Its average weight is in the range of 20-50 pounds (9.07-22.68kg). 
Checking on its length, you see a 3.3-4.3 feet long animal, including tail length. This is nearly the size of a six-foot-standing man. 
Once occupants of the prairies and desserts, the modern coyote has even shifted habitations to reside in cities like Los Angeles.
Characteristically, a coyote is a clever, opportunistic predator with a strong sense of smell and keen vision. It can run at the speed of 40 miles per hour (17.88m/s). 
Husky Dog
Tracing its roots to the Chukchi tribe in Siberia, the Husky or the Siberian Husky is a popular dog breed worldwide. 
The Siberian Husky comes as a helpful companion dog. The dog was a committed sled dog used mainly by the Chukchi people to help in work. Perhaps that explains why the American Kennel Club recognizes it as a working group member.
At 24 inches (0.61 meters) tall and 35-60 pounds (15.88-27.22kg) weight, the Husky is a close match to the stature of a coyote. Husky is a very intelligent dog breed and comes with a gentle temperament. 
The dense, soft coat is graced with gray, tan, or black color patterns. On its head, markings that resemble a cap, mask, and spectacles are prominent. 
Also Read: Yellow Balls in Dog Poop: 4 Causes and Solutions
Characteristics of The Coyote Husky Mix
The table below is a summary of the characteristics of a coyote husky mix:
| Characteristic | Breed Facts |
| --- | --- |
| Names | Coydog, husky coyote mix |
| Origin | The Americas |
| Breed group | Working member |
| Height at shoulder | 22-27 inches (52-65cm) |
| Weight  | 60-120 pounds |
| Lifespan | 5-15 years |
| Color | Variable; white, brown, tan, sable |
| Coat | It has a double coat that's thick, tough, and dense. |
| Behavior | Shows aggression around other dogs and their owners. |
| Common health problems | Hip dysplasia, arthritis |
| Training | To tame their wild temperament, this dog will need plenty of training. It requires a committed trainer.  |
| Loyalty | They are loyal to their owners |
Characteristics of Coyote Husky mix
Is Coyote Husky Mix a Good Pet?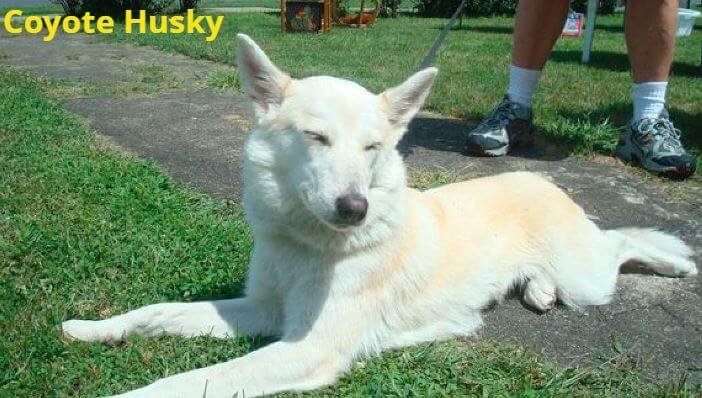 There is a lot of information about domesticated dogs. This is what makes them accepted across many households as a pet. But can the same be said of the coyote-husky mix? 
Generally, a coydog is a good, hardy hybrid dog with a strong will for hunting. If you decide to adopt one as a pet, you should be really super-committed. It's not really the perfect pet for your home if you're not ready to train it to obey and forget the wild character of the coyote. 
Pets should have a predictable temperament. Coydogs are not predictable, which is why many states have banned them as pets. 
For safety purposes, you can't have this dog in your home. It could revert to its coyote instincts and even harm children. 
Its strong personality needs a strong-willed and dominant person to have it as a pet. Be ready for the coyote test, though. 
Sometimes it will confront you head-on–that's the difficulty you have to handle owning a coyote dog. Hence, before you take this dog home, you must be a person who is really good at handling dogs. 
How Do You Tell If Your Dog Is Half Coyote?
Coyote dogs borrow from the features of a coyote and a husky. These traits can be seen, but it's difficult and not the best way of telling whether your dog is half coyote without a proven history. 
You can tell if your dog is half coyote, and be sure only by undertaking a specific coyote-dog DNA test. You can seek the services of your vet to help with these tests. 
Alternatively, you can visit laboratories like the UCDavis Veterinary Genetics Laboratory for a coyote-dog hybrid test. This is a paid test that will cost you $120 per animal. 
The test usually checks for a coyote's input in the dog's genetic makeup. And while it's a powerful tool for detecting hybridization, it doesn't guarantee accurate information–at least according to information they provide on their website. 
That being said, there is no way you can simply guess that your dog is a half-coyote by looking. To avoid some accidents, if at all it's a coydog, a DNA test is the best way to go. 
How To Train Your Coyote Husky Dog
If you're a daring, hardy fellow, training a coyote dog may be fun. Know that you will need to start as soon as you bring him home. And you should have researched this dog breed in-depth–so you have all the information about him. 
Unlike domesticated dogs, coyote dogs are not straightforward. They may harbor certain coyote tendencies you must know for safety. 
Coydogs are intelligent and can easily detect weak and strong minds. So, your role as a leader must come clean and clear. They need to know you're the boss from the start; otherwise, you're set for a rebellion. 
During training, be sure that your coydog may break the laws you put in place. That's the test he drops right before you to see if you're strong and brave enough to challenge him. 
For instance, if he bites you in a confrontation, what next for you? For some people, that's a turn-off. Hence, you should not have a coydog under your roof, ever. 
But if you're brave enough to face him and give your orders, the coydog would listen and know who's in charge. Avoid too much harshness, as this may not work sometimes. 
Training your coydog should be structured such that you balance your personality during sessions. This means mixing intelligence, command, and friendliness in the right way. 
Remember that a coydog can use your training system against you. So, you must always be ahead of them in terms of smartness.
How To Care For The Coyote Husky Dog
Being a special dog, the husky coyote mix requires close care. 
1. Proper Diet and Nutrition
Coydogs are larger dogs with higher diet needs. They feed on raw meat and dry dog meals containing many calories. You already know that these dogs are very active. 
Your diet plan should include raw beef and chicken meat as the primary food. They can also feed on other natural foods which provide a good proportion of nutrients for the dog's daily maintenance. 
You can also consider providing your coydog commercial dog food when necessary.
2. Regular Exercise
A coyote husky mix is a high-energy dog with an active lifestyle. If you cannot match this, then he's not the type of dog for you. 
This dog requires a minimum of 2-3 hours of daily exercise to satisfy its natural instincts. Long nature walks, hikes, and park visits will be essential for the dog. 
Pent-up energy in dogs like coyote huskies can be too much. If they don't find a way to release it, their aggression becomes intense. Fortunately, plenty of exercise is an excellent way to release this energy. 
3. Maintain Good Health of the Dog
Coydogs can stay healthy with a lot of exercises and a proper diet. However, they also suffer from disease when they are poorly maintained. 
You need to prevent your dog against common diseases like rabies, parvo, or heartworm. Vaccinations would help. Watch out for severe medical conditions like hip dysplasia and arthritis and treat them as soon as possible.
Final Thoughts 
Coyote husky mix is a cross between a coyote and a husky. It's also commonly called a coydog. Coydogs are banned in most states as pets because of their unpredictable temperament. So it's rare to find them. 
Coydogs are very active pets and need daily exercise for everyday life. Their food requirements are also higher than those of an average dog. 
They are not the best dog for pets as they can turn against you, especially if you don't show yourself a robust and firm leader.